We've been catching up with ADAA 2016 Commercial Photography Finalist Martin Hoang at the Adobe San Francisco offices. This is the last article in a series about the launch of Martin's career.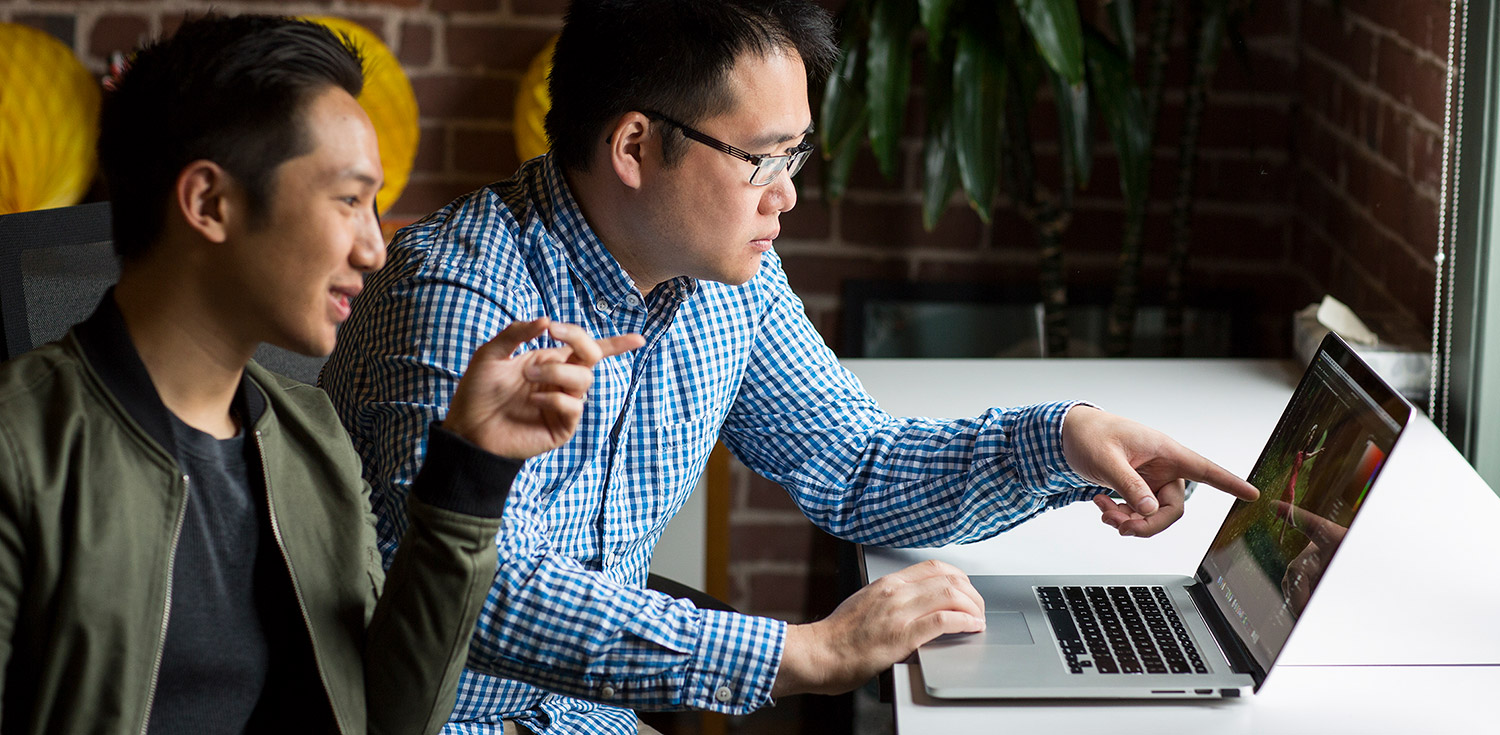 Martin Hoang and Johnson Fung at work at Adobe's San Francisco offices.
ADOBE: Alright. You've been at work at Adobe for a while now. Catch us up, now that you've got a little perspective on it all.
MARTIN HOANG: It's been a rollercoaster. A lot of ups and a lot of downs. I've grown so much. I'm still learning a lot. It's absolutely ridiculous the amount of information I'm processing every day. And a lot of it isn't technical; it's on the psychological and emotional side of work.
A: Tell us more about that difference – between the technical and the emotional sides of work?
MH: Well, I've made some incremental technical improvement as a designer, sure, but I'm still more or less doing what I was doing as a student. The skills I'm using on a daily basis and the tasks I'm executing are pretty similar.
It's all the other stuff that comes along with working in the real world that's really forced me to grow. Deadlines are real now. I had a pretty good work ethic before, but I've had to work myself even harder to meet all the expectations. And I'm not just cruising out of class at the end of the day and going home; those expectations go with me.
I can't let my personal life get in the way of my focus at work, but I also don't want my work to get in the way of my personal life. There's a balance I have to be thinking about all the time, and that, in and of itself, is work.
A: Sometimes learning that lesson can be a little painful. How did you first realize the need for work / life balance?
MH: Right away I had a hard time keeping the balance. I think it's probably a struggle for most designers, since doing work we love – it's in our nature, as creative people. But I let it get to the point that I didn't have a personal life any more, and I let it happen way too fast. I was concentrating entirely on work and staying hyper-focused on succeeding, and when you do that, you burn out.
A: Sounds like you didn't burn all the way out…
MH: Actually, no – you're right. I didn't.
A: What saved you?
MH: My coworker, Emily. She gave me some really great advice, as a fellow creative. She told me I needed to find something to do in my personal time to replenish my creative juices – something not related to my work. Those of us who turn our hobbies into our day jobs need to consistently replenish the passion that hobby brought us before it was work.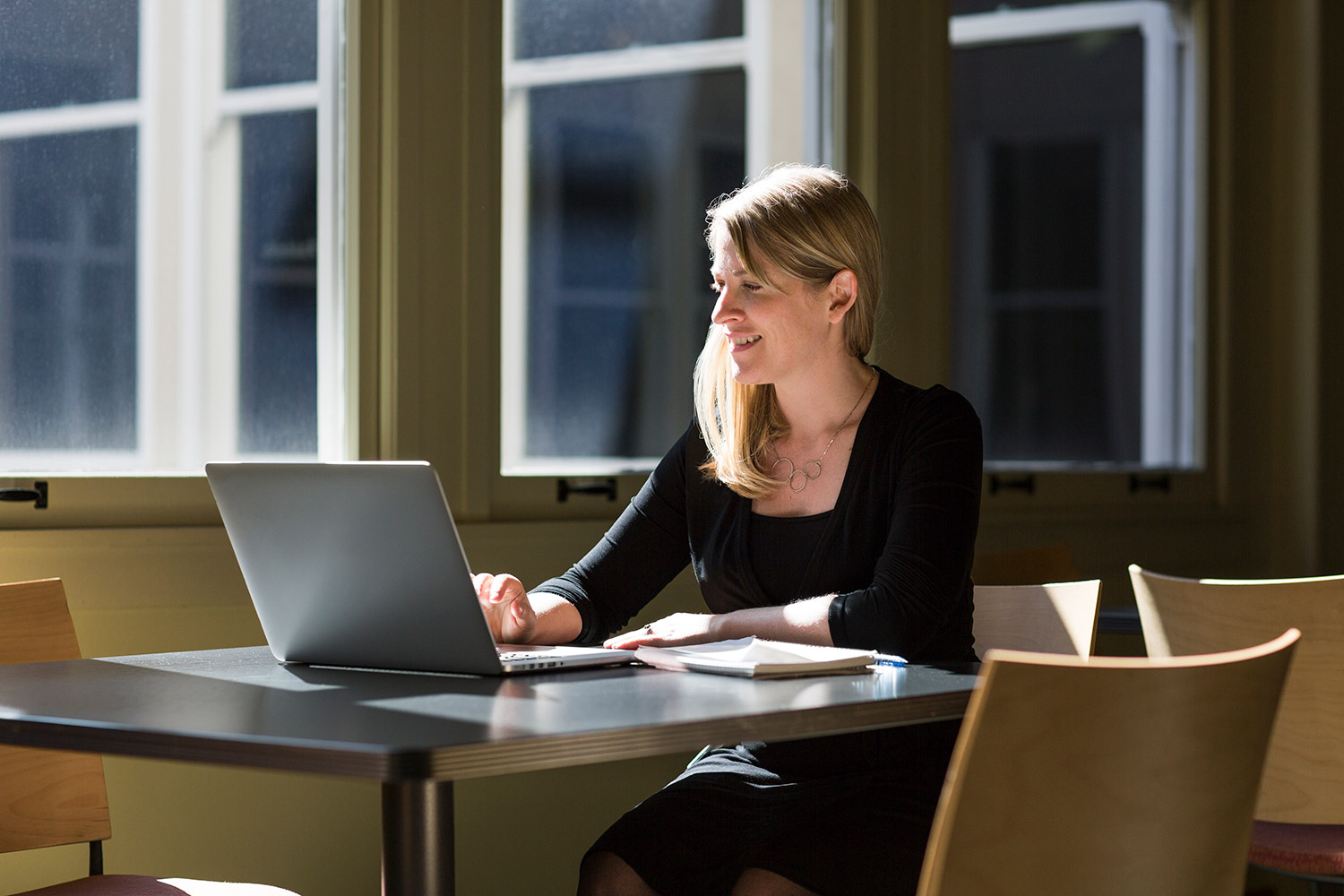 Martin's portrait of his Adobe teammate, copywriter Emily Brady.
A: Great advice from Emily. Who is she?
MH: Emily is the copywriter for the project I'm working on. I deal with the visual side of things, and she deals with the technical/instructional side. All of the text you see in our project is her creative output.
A: What was that like, making a personal relationship in the workplace?
MH: It's hard to do – with anyone in any setting, really. We all have barriers, we don't like feeling vulnerable. It's scary, putting your trust in people, especially in an environment where you already feel intimidated. Emily just put off this really caring, protective, older sister vibe. I'm an older sibling myself, and to see her take that on – it made me open up and trust her. It also really cemented our team; trust is how you get great work done.
A: Tell us about some great work you've gotten done. What are you proud of?
MH: I still can't spill too much about our project, but I can say it's low-budget; we had to be scrappy and leverage our connections a lot. Emily was a huge help; she has an amazing network and we've made a lot happen with it that we're both really proud of.
The biggest high for me personally so far has been the fact that I've never missed a deadline. Not yet – no matter how tight they've been. In fact, I just turned in some Photoshop assets yesterday to the product team at 3:00 PM sharp. That was the big deadline we've had for the past two months. We have another big one in June and I'm gonna make that one, too.
A: How's your relationship with your supervisor?
MH: Johnson, my boss, has been nothing but supportive from the very beginning. He's helped me evolve as a person and as a leader. He's pushed me to take initiative. He's taught me to always have a "Plan A" and a "Plan B" – that was a big one for me. I used to think of myself as a one-hit wonder: someone who could nail it on the first attempt. In the real world, I've learned that rarely works. I always have multiple plans now: multiple ways of persuading my stakeholders. It helps me feel confident I can hit the ground running after a pitch.
Martin's portrait of his supervisor, Johnson Fung, Senior Product Manager at Adobe.
A: You've obviously already learned a number of valuable career lessons; what advice would you like to give yourself, back in December, when you just found out you got this job?
MH: I think I would tell myself to think good and hard about how I ride the wave of stress. Do I fall off and crash? Or do I coast on it gracefully, all the way to the shore. It's a great metaphor, because work – and life – continuously give you waves. You can't avoid them. It's about how you ride them that defines you in your career.
I learned that from my mentor, Theresa Whitehill, actually.
A: That's an amazing piece of advice – something you really only learn once you've been dunked in the shark tank. Tell us about Theresa.
MH: Theresa is my professional mentor. I was paired with her through the Adobe ico-D Mentorship Program. I've been meeting with her outside of work. It's great, because she provides this totally different perspective on my work and my growth, separate from the workplace.
Overall, I feel super lucky that I have so many sources of support right now, helping me grow and improve.
A: What are you and Theresa working on together?
MH: We're working on a high-end packaging concept for tea tins. The tins are wrapped in red leather, I'm sculpting designs in them… It combines a lot of my creative passions.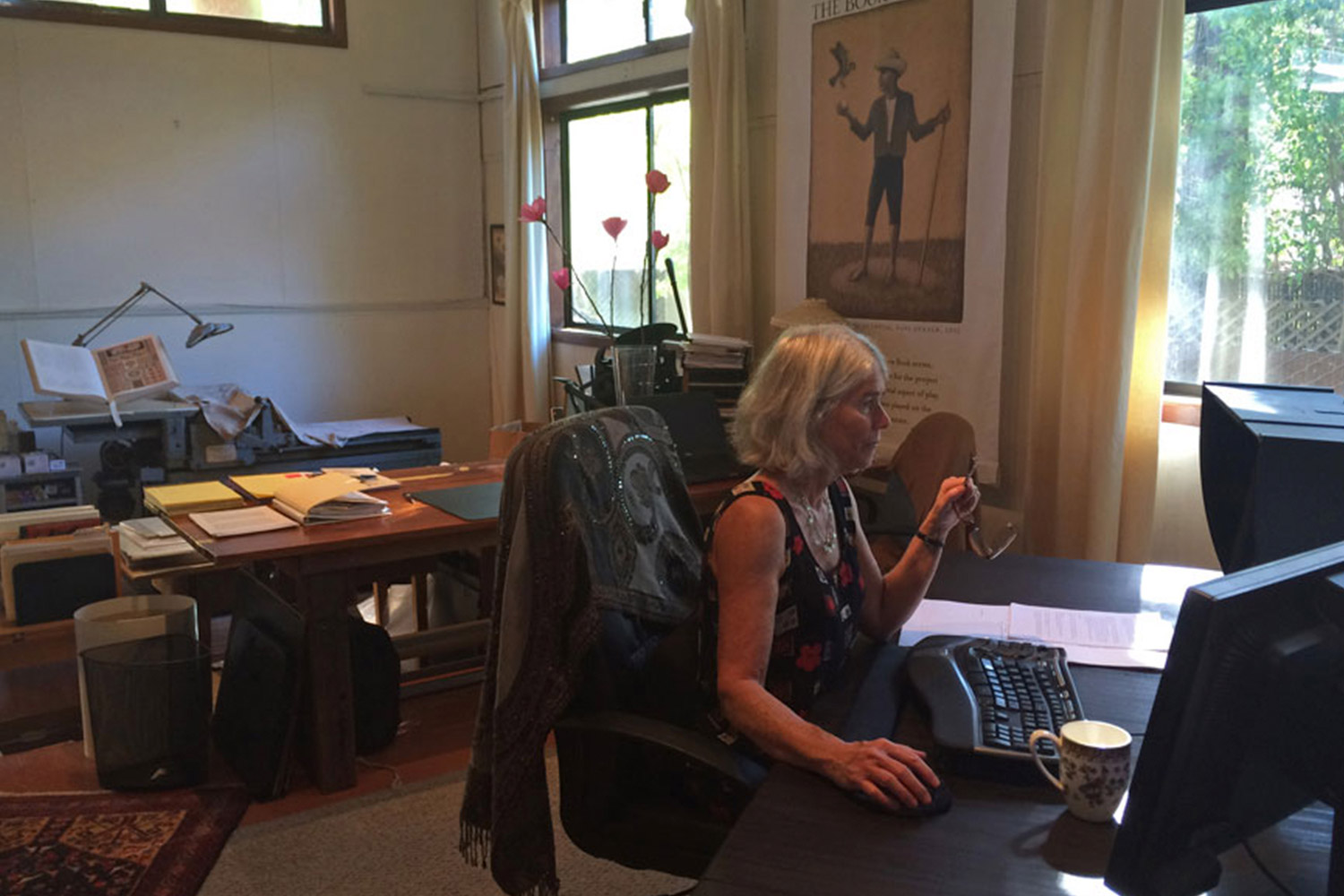 Martin's professional mentor, Colored Horse Studios co-founder Theresa Whitehill.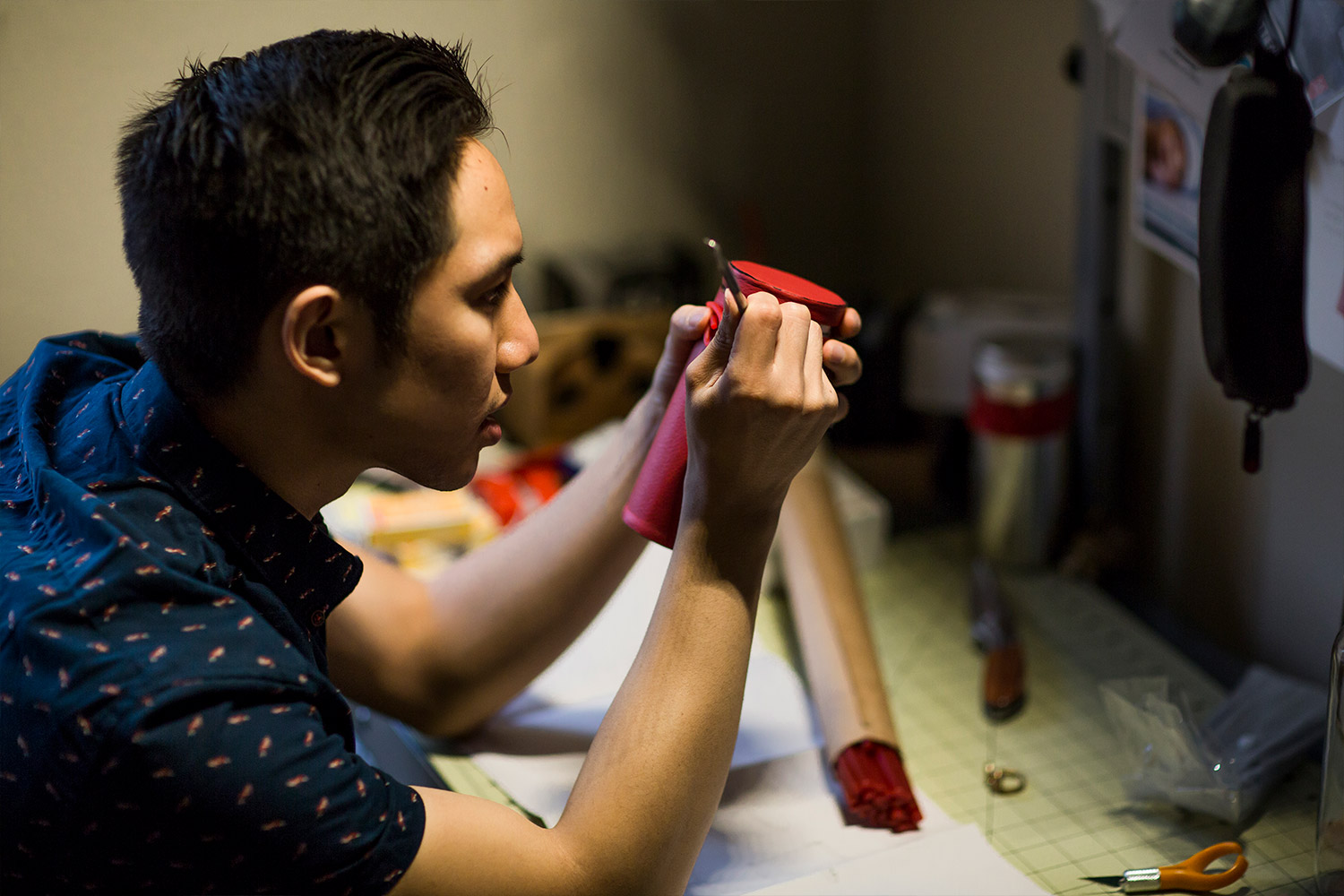 Martin at work on his packaging project with Theresa.
A: Sounds a lot like your Sojourn project. You're pushing all those boundaries again…
MH: Yes! And it's really keeping me sane right now. Photography and graphic design have been my passion for so long, but doing them every day for work – I need something outside of that to bring me back down to earth and remind me why I love being a creative.
A: Okay. Boil all this wisdom down for those students getting ready to graduate. They're nervous about launching their careers. They're getting their portfolios together. They're exactly where you were not long ago. What's your message to them?
MH: Your technical skills can only take you so far. When people look to hire, they want to hire who you are, as a person. That's the biggest part of all of it: how you fit in with the team. Outside of being a great creative, you have to be a great person – and a great team member. Be kind to all, and most importantly be genuine.
A: Recipe for success! It's great to have you on the team, Martin.
•••••••••••••••••••