We've been catching up with ADAA 2016 Commercial Photography Finalist Martin Hoang at the Adobe San Francisco offices. This is the second article in a series about the launch of Martin's career.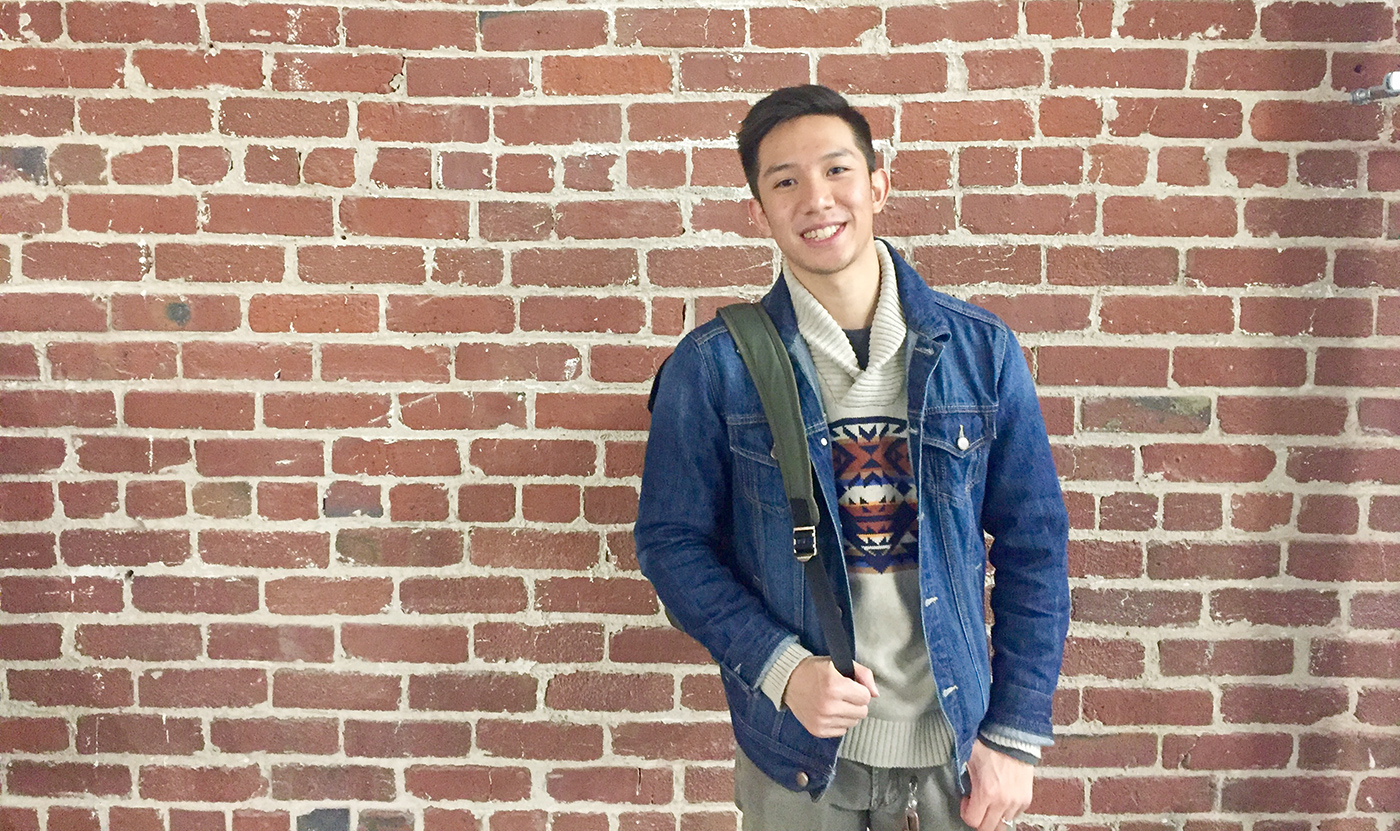 Martin Hoang photographed at work at Adobe, February 2017.

ADOBE: When we last got together, you were getting your portfolio ready for your job hunt. How has that gone so far?
MARTIN HOANG: You know, I think I said something last time about how I really just hoped a company would give me a chance; I just wanted to get my foot in the door somewhere. I never thought it would happen in my first week of the hunt. It happened in a big way, and it caught me by surprise because it was so phenomenally fast.
A: Wait wait wait – okay, tell us more. This is getting good.
MH: Long story short, I got a job in a matter of days.
When I came in for our interview for the first blog post, I got to spend some extra time at the different Adobe offices. We had lunch, we took some pictures and I stopped and chatted with a few Adobe people I had met through the Adobe Design Achievement Awards ceremony at Adobe MAX. By the time I got home, I had an email waiting from one of my connections at Adobe, asking me if I wanted to come back and interview for a job. I went through with the interview, and I got it. I got a job! Here – at Adobe, all within days.
A: That's incredibly amazing, and also a little terrifying? Assuming it was a little scary for you (in a good way)?
MH: It was absolutely terrifying! We're talking about the craziest week of my life. I came in for what I thought would be this simple, friendly conversation, and I ended up landing a job. I was fresh out of college for just a week. When I got the interview, I just kept thinking it had to be something special, something Adobe was doing just to be nice. A mentorship, maybe? But not a real interview for a real job. When I got that Google calendar invitation, that's when I knew it was definitely real. No one was doing this just to be nice to me.
A: And then… ?
MH: And then it was 24 hours of prepping my resume and running to Kinkos and making every last thing fully presentable for this crazy opportunity.
A: What does being "fully presentable" mean in a situation like this?
MH: Well, basically everything I learned in my professional practices classes in school – I jumped on it all. I needed a cover letter, a professionally-designed resume to show I was a "real" designer, and I needed great portfolio pieces that I could show for this particular interview. In this case, I thought it would be refreshing to present a printed portfolio.
It also meant steaming my interview suit and picking out the perfect bow tie.
A: And the effort obviously paid off – you got the job. But it seems like it was more than just your cover letter and resume at work here? Were you just in the right place at the right time, or is there more to the story?
MH: There's definitely more to the story. It all goes back to the ADAA ceremony in San Diego last fall, during Adobe MAX. While I was there, I put in a lot of extra time and effort to meet everyone. I shook a lot of hands, kept smiling and told my story a million times. One of the people I met from Adobe was the ADAA ceremony emcee, and that ultimately got me where I am today.
A: He's your supervisor now at Adobe?
MH: Yes. I saw him again that day I came in to do our first blog interview. He was one of the people I stopped to say hello to and we got to chatting. The Studio team at Adobe gave him the thumbs up to go through with my interview. I've since asked him why he took a chance on me – someone just getting started professionally. He had a few answers. First, he said, "You just kept showing up, and I like that." Second, he assured me that they wouldn't have given me the interview if they didn't think I met the skillset threshold. And lastly, he told me life is all about timing; my timing was good.
A: So true. Life is all about timing. But you have to be ready when the time is right, too – and it sounds like you were.
MH: I made sure I was and I worked hard at it too. It just finally fell into place for me.
A: So what's the lesson in all of this?
MH: I've been thinking about it, and I was ready for my job hunt to be some serious hard work and require some serious perseverance. Now that I've landed the job, I'm reminding myself that I'm not off the hook; I'm not done working hard and persevering. I've just transferred it to the next phase. Now I have to put it all into the job itself. Honestly, I'm still a little jetlagged by the whole experience, working at Adobe, not 100% convinced I belong here yet.
A: Maybe that's good? It will keep you on your toes?
MH: I'm definitely on my toes!
A: Tell us what that first day on the job was like.
MH: Oh man. That first day was absolutely nuts. Scariest, most exhilarating day ever. My supervisor – he has two sides. He's very friendly and approachable: very mentor-like. But he also has this extremely focused side; when he wants and needs to get something done, it's getting done. It's really a perfect package.
On my first day, he had a schedule planned for me from 9:00 AM – 4:00 PM of constant onboarding activities, and we got through it all. In fact, we got through it all with two hours to spare so that I could jump straight into the project I was hired for. My head was spinning. But at the end of it, I was definitely on board and ready for takeoff.
A: And as far as where you go next – can you tell us what you're working on?
MH: I'm honestly still in awe of how much responsibility I have. I'm in charge of content creation for the next big Photoshop update, and it deals with photography. I get to dabble in everything from photo shoots to UI/UX to user research. I work directly with the Adobe Studio team and their creative directors. I would never in a million years imagine I'd be sitting in a room with these people pitching my ideas.
I'm learning the ins and outs of being a corporate designer. I'm learning about all kinds of different roles and how teams work together and how to maneuver between them and to coexist and get things done inside this huge company. That's been a big, big part of my learning in these early days.
Martin shooting at the Adobe offices.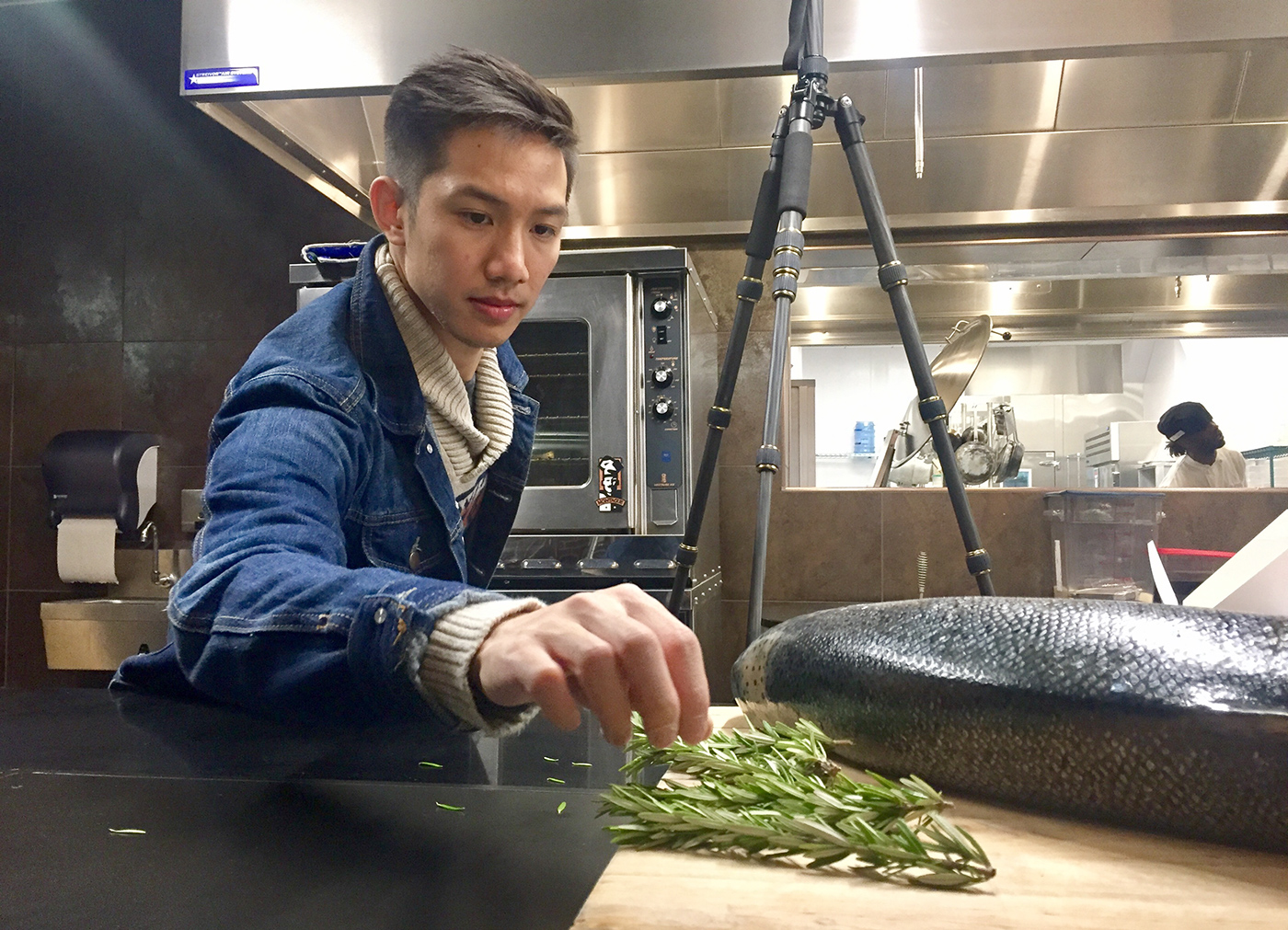 Martin styling a shot in Adobe's kitchen.
But that's pretty much all I should say, because the other thing about my work is that it's top secret. It will hopefully be released at Adobe MAX this fall.
A: Wow. If we'd told you when you were at Adobe MAX as a student last year that your work would be having its market debut at Adobe MAX this year, what would you have said?
MH: I would have said no way. You have the wrong guy.
A: Except it seems you actually were "the right guy".
•••••••••••••••••••
There's still more to come in Martin's story; stay tuned for the next chapter…