ADAA 2016 Commercial Photography Finalist Martin Hoang stopped by Adobe's San Francisco offices to catch up about his recent graduation from Cal State University East Bay, beginning his job search, and the role the ADAA and his trip to Adobe MAX have played in launching his career.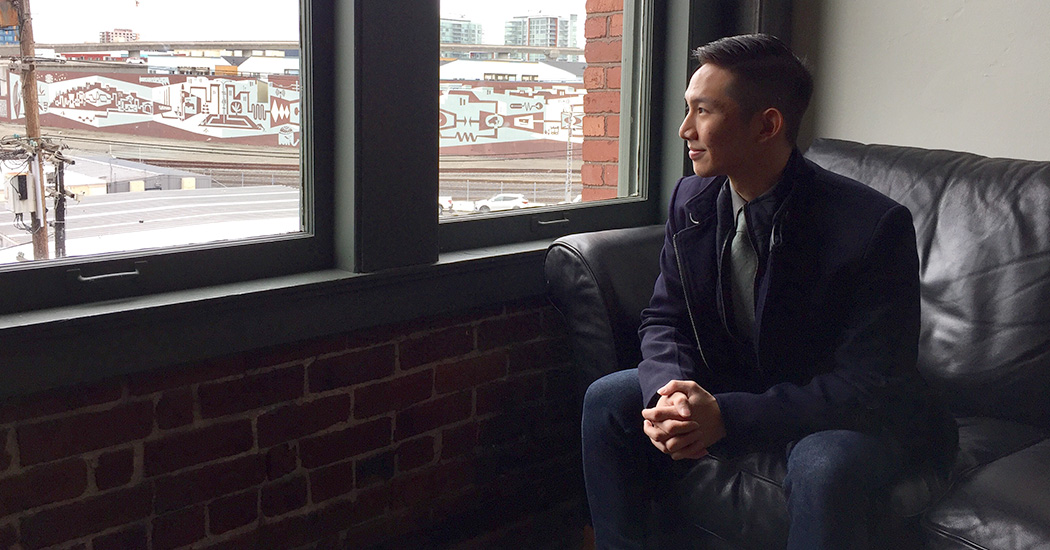 ADOBE: You just graduated — congratulations! Tell us about finishing school.
MARTIN HOANG: Well, after I came back from the ADAA ceremony and Adobe MAX , I went straight back to finishing my final project for my BFA. It was hectic, but I was fired up; I had five weeks to get it done. It was a big project — an entire packaging concept for a fictitious wine company inspired by Homer's Odyssey, called "Sojourn."
I took the characteristics of Odysseus, described in the book as the perfect man, and applied these to the perfect wine series instead. The whole concept is very rustic in feel. I even did a photo advertising campaign for it.
A: You're blending a lot of media and techniques in "Sojourn"; you're sandblasting, carving boxes by hand, you're bringing in your photography skills… Tell us more about what's behind a project this big.
MH: Sojourn really played on several disciplines that I consider my strengths. It was a way to showcase my talent in a big way, within a single portfolio piece. Usually when you get hired to do client work, you're more restricted to what the client wants. I really wanted to complete a personal project like this that highlighted my interests and what I personally enjoy. On top of all that, seeing it come to life was awesome.
A: Passion projects are so important in landing your dream job. We consistently encourage students through the ADAA to find a way to do the work they want to get hired for, even if they aren't getting paid for it yet. It sounds like you've already figured that out.
MH: I had been freelancing a lot these past few years, but the longer I freelanced, the more I realized I wasn't giving myself enough space and time to develop my own style and explore my own passions. I was getting burned out creatively, so I focused harder on my BFA and used my schoolwork to explore and exercise my creativity. I took a trip to Europe last year with my family, and met my French uncles that had a passion for wine. I learned quite a bit through them and from there this project just took off. I've been working on it basically ever since that trip.
A: It's impressive. And you say you're not a drinker, but you really nailed "wine"!
MH: I've been getting that quite a lot recently. It was just pure inspiration. I've always been intrigued by wine bottles and their beautiful forms.
One thing I found interesting is how wine packaging rarely pushes the boundary of the bottle, and I wanted to do something that would do just that.
There's this big movement going back to handcrafted goods, and I wanted to push my own boundaries to learn these techniques. I learned how to use a table saw, a sandblaster, belt sander — basically every tool in the shop.
Design also has become so digital that a lot of students and designers forget where it came from. Taking it back to the days where you had to do everything physical was both refreshing and eye opening at the same time. It made me understand the value of the tools Adobe has created.
A: Let's talk about Adobe MAX. You made the trip this year as an ADAA Finalist. How did that prepare you for this exciting time and everything that happens next?
MH: MAX was probably the coolest experience I've ever had in my life. There were 10,000+ amazing creatives in one place. Probably the highlight for me was actually meeting my idol, [photographer] Joel Grimes, who I've looked up to forever. I was positively starstruck. I ran into Aaron Draplin and the folks from DKNG Studios… It was just amazing. I never imagined being at Adobe MAX. Ever.
Seeing how big the creative community really is — that was powerful. That really made an impact on me. It's scary and awesome at the same time. Definitely inspiring.
A: We have to know — what did you say to Joel Grimes when you met him?
MH: I was babbling like an idiot. He was setting up for a workshop and, luckily, he saw I was a fanboy and made it easy for me to talk to him. He actually had me sit in while he did his lighting set up. I ended up modeling for him at the beginning of his workshop! It was so unreal. I got to show him my work. To get validation from my idol — I mean, it doesn't get better than that.
A: Okay, so, you made the ADAA Finals, you met your idol, you aced your final project, your BFA is in the bag. You had a pretty good year. What happens now?
MH: I'm getting my resume and portfolio in shape. I'm thinking hard about what goes into my portfolio. At MAX, I heard a lot from industry professionals and especially during Adobe Career Bootcamp about what makes a great portfolio. I feel like I have a better and clearer sense now on what professionals expect of me.
A: It's hard to be your own editor; we all struggle with that. But limiting yourself in your portfolio allows your story to shine. How's your story taking shape so far?
MH: I've been asking a lot of people what they think of my "story", and I've been going to a lot of portfolio reviews. I recently had one with an alumni of my school who worked as a texture artist at Dreamworks on the movie Rogue One: A Star Wars Story.
He told me my work has an unusual balance of polished minimalism and grit to it. I've been thinking a lot about that and it's an interesting paradox. I'm still trying to develop my own story and style, and this paradox might just be it.
A: Are you nervous at all, as you head out into the "real world"?
MH: I'm just nervous about getting my foot in the door somewhere. I've been freelancing, and working for myself, but really understanding what companies want and expect from a recent grad like me — that's what I get nervous about. There are just so many answers; there's no single route to getting there.
I guess if it answers your question, I'm not nervous about the work, but the journey of getting there. At this point I know I have to work just as hard as or even harder to get where I want to be. I've always had to.
A: You have so many talents — what's your "dream job"?
MH: I don't think I've figured it out yet. I think it's just something I can wake up to every morning, and be happy to do it.
A: Okay — last question: how will you know when you've "made it"?
MH: For me, when you get published, that's how you know. It's a very good sign. People keep saying print is going away, but for artists I think it only makes it more valuable.
I want to see my work be featured in print; I want multiple copies, one that I can touch, one that I can hang on the wall… It's an award in itself. Being in print is an automatic trophy in my book because it means thousands of people are going to see it.
A: Sounds like you're on your way.
MH: I really hope so!
•••••••••••••••••••
There's more, read the next chapter