2017 Final Judges in the social impact segment, deep in discussion.
It's the question on every student's mind at this point on the competition calendar: who picks the winners of the Adobe Design Achievement Awards, and how, exactly, do they choose from thousands of entries?

To answer the first part of that question: there are a lot of judges involved in narrowing so many submissions down to just a single winner in each category. And in terms of how they do it? It's not easy! A mix of technical tools and good old-fashioned face-to-face discussion and debate helps bring the competition across the finish line. Let's take a look at how it goes down…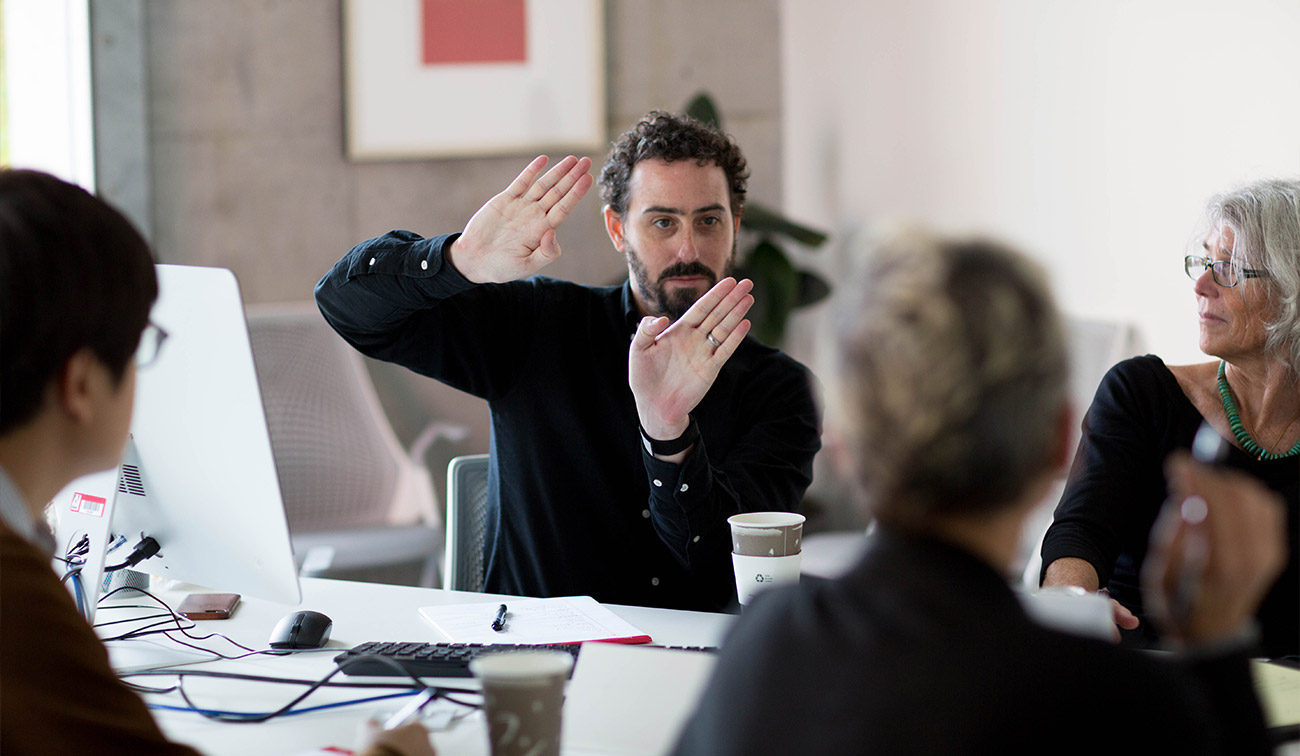 2017 Final Judge Shawn Cheris directs the debate in the commercial judging room.
---
STEP 1: The Pre-Selection Panel
There were almost 7,000 entries in the 2017 ADAA (you can see more than 6,300 of them in the Live Gallery). In the first round of competition, members of the Preselection Panel – distinguished creative professionals located all over the world – are each assigned a load of entries to review remotely using a special judging tool built just for the ADAA. The panelists' lists of entries overlap, so that every entry is seen by at least three different panelists.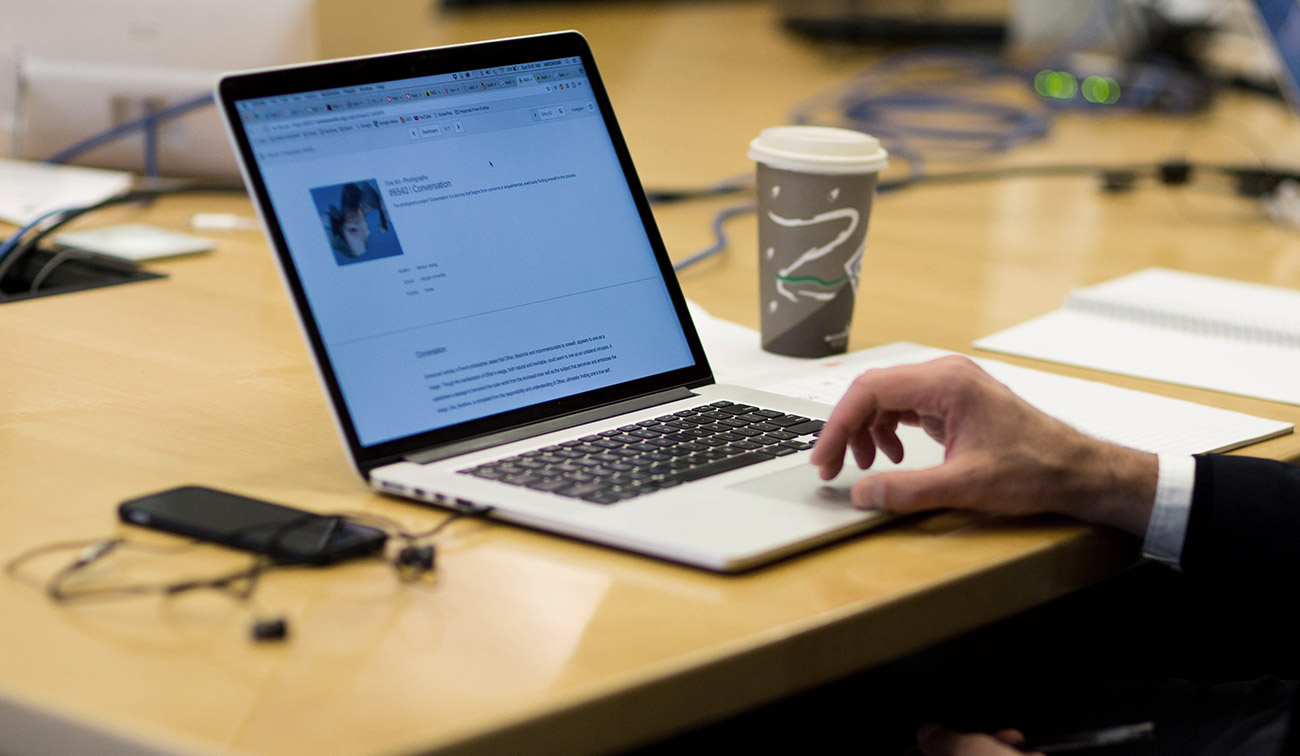 DID YOU KNOW? The ADAA's proprietary judging tool was built by past ADAA winners!

Panelists use the judging tool to enter a vote for each entry, determining whether it advances to the semifinal round: "2/3 yeses progresses". They can also enter feedback that gets delivered directly to the student.
It takes many weeks for all the Preselection Panelists the world over to get all the way through every entry in the ADAA; those students who make the cut are awarded "Semifinalist" status.
---
STEP 2: Final Judging
In 2017, the Preselection Panel narrowed the competition to just over 1,700 Semifinalists – certainly a smaller selection, but still not exactly a light workload left to consider! And given the high quality of the remaining entries, the only way to identify the best among them is to bring in a panel of the very best creative pros to hash it out – for two days straight.

2017 Final Judges at Adobe's San Francisco offices.
The 2017 Final Judges met at Adobe's San Francisco offices over the weekend of August 12 – 13. They also used the ADAA's special judging tool to get through the process, but with adjustments made just for them: only the semifinalists' work was viewable now, and they had enhanced features for offering feedback.
Being a final judge is a big commitment, and judges take their role very seriously. It starts with a homework assignment: each judge signs up for categories and disciplines in which they're comfortable evaluating work on their own.
On Day 1 of judging weekend, each judge flies solo at a computer, reviewing all entries that align to their personal areas of expertise independently and giving each a score on a scale of 1 – 7. They also provide feedback to students as they go, using the judging tool's handy feedback features.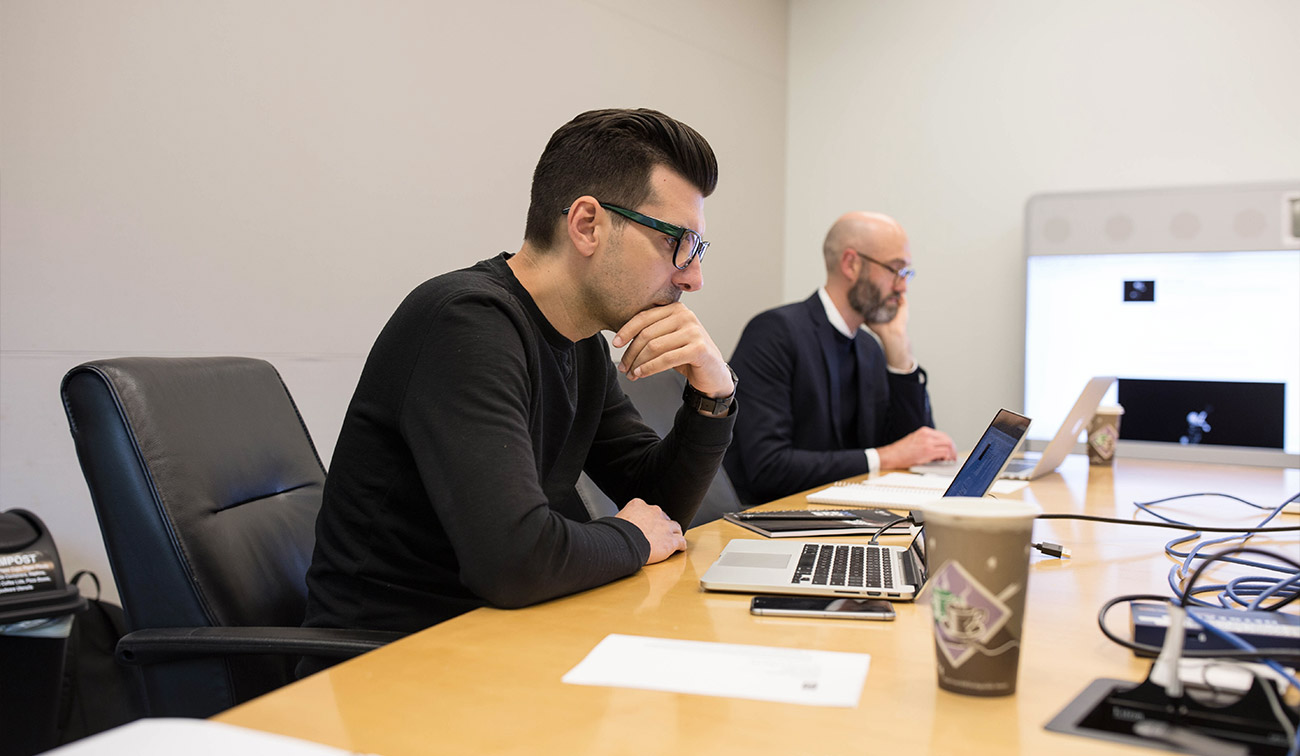 Johnny Macri and Mario Wagner scoring work using the ADAA's judging tool.
On Day 2, judges assemble in groups according to the competition's segments: Fine Art, Commercial, and Social Impact. They then collectively review all the entries in that segment with the best scores from Day 1 (this year, judges began by looking only at works scored 6 and above, but they had the ability to lower their score threshold and see more work if they felt it was necessary to find the best).
At this point, there's no easy way to finish off the process! The judges in each segment close the door, and hash it out until they've reached consensus on a winner and finalists in each category. Each judge's personal expertise and passion are integral components of conversations that go on for hours, but ultimately help choose the next class of creative leaders.
Curious who would volunteer their free time for such a monumental task? Meet just a few of the 2017 Final Judges…
---
MEET: Final Judge Elise Granados
Associate Design Director, Odopod
San Francisco, California
At Odopod, Elise works closely with companies to establish a brand vision and leads teams in solving large-scale interaction and design problems.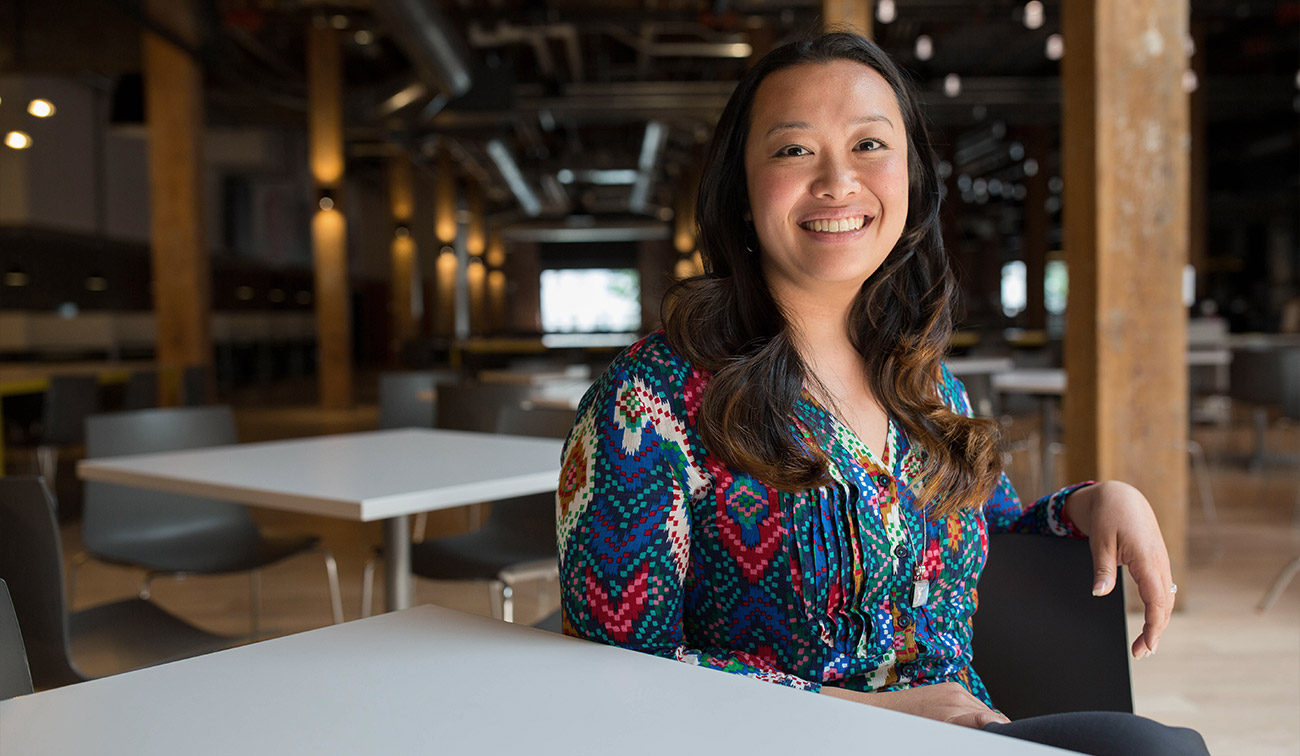 Why do you love what you do?
I've always had a love of creating. As a child I was constantly building, drawing, and mashing found objects together; this need to make things is why I love what I do now. I have the opportunity to create experiences in the world that other people will use and enjoy.
What excites you about being an ADAA judge?
As leaders in the design industry, it's our responsibility to give back and help the next generation of designers grow. Being a part of this program is exciting because it provides an important opportunity for up and coming creatives.
What's the best piece of advice you can give a young creative?
Growth is a constant. We live in a world that is continually changing and evolving. Your ability to pivot and carve new paths for yourself will keep you moving forward.
If you could trade careers with someone, who would you choose?
I've always enjoyed live performances and often find myself admiring stage design. Constructing a set that adapts constantly in a 360° space sounds like an amazing design challenge!
---
MEET: Final Judge Johnny Macri
Design Director & Founding Partner, Dare to be Made
Montréal, Québec
Johnny got his start as a graphic designer, then worked his way up to leading large teams as a creative director en route to founding Dare to be Made (with partner Florin Gabor) in Montréal.
Why do you love what you do?
I love attending new briefs, revisiting old ones, meeting new people and learning new things. For me, every aspect of this process is exciting; from research and strategy to creative, production, and launch.
There are very few jobs that allow you to explore so many different facets of a project.
What excites you about being an ADAA judge?
It's a way to connect with the next generation of thinkers and designers. For some, this experience will help shape who they become in the future; something as simple as a positive comment or a small piece of advice can make a big difference. The fact that I might play some role in making the career experience a little better for people is very exciting.
What's the best piece of advice you can give a young creative?
Follow your instincts. It sounds simple, but I find it's the hardest thing to do. Trust yourself.
When you were a kid, what did you dream of becoming?
An architect. From a very young age, I can remember being fascinated with form, space, light and shape. My mood changed depending on the environment I found myself in. Grand halls, tight little corridors, winding staircases: different spaces tap into different emotions and feelings. The physicality of space can be transformational. I never became an architect, but I did have the pleasure of using my skills as a designer to help blend space and graphic design. Close enough!
---
MEET: Final Judge Gaby Brink
Chief Designer and Founder, Tomorrow Partners; AIGA Fellow
San Francisco, California
As the founder and leader of San Francisco's Tomorrow Partners, Gaby uses design to help organizations create "awesome experiences". "Awesome" meaning they improve people's lives – and that can take many forms.
Why do you love what you do?
I get to learn about all sorts of people's lives and think about ways to make them better.
What excites you about being an ADAA judge?
It's always exciting to hear and see what tomorrow's designers are thinking about.
What's the best piece of advice you can give a young creative?
Do what brings you joy. You only have so much creative capital in your lifetime.
What's the work you're most proud of?
Don't ask me to pick my favorite child!
Okay; then are you a dog person or a cat person?
Is that even a question? Dog!
---
MEET: Final Judge Mashama Thompson
Co-founder and Creative Director, 510media
Oakland, California
"Shama" basically does a lot of everything as Co-founder and Creative Director of 510media, from campaign design to package and product design to film production to strategy and positioning. At
the end of the day, his job is to keep his team on target creatively.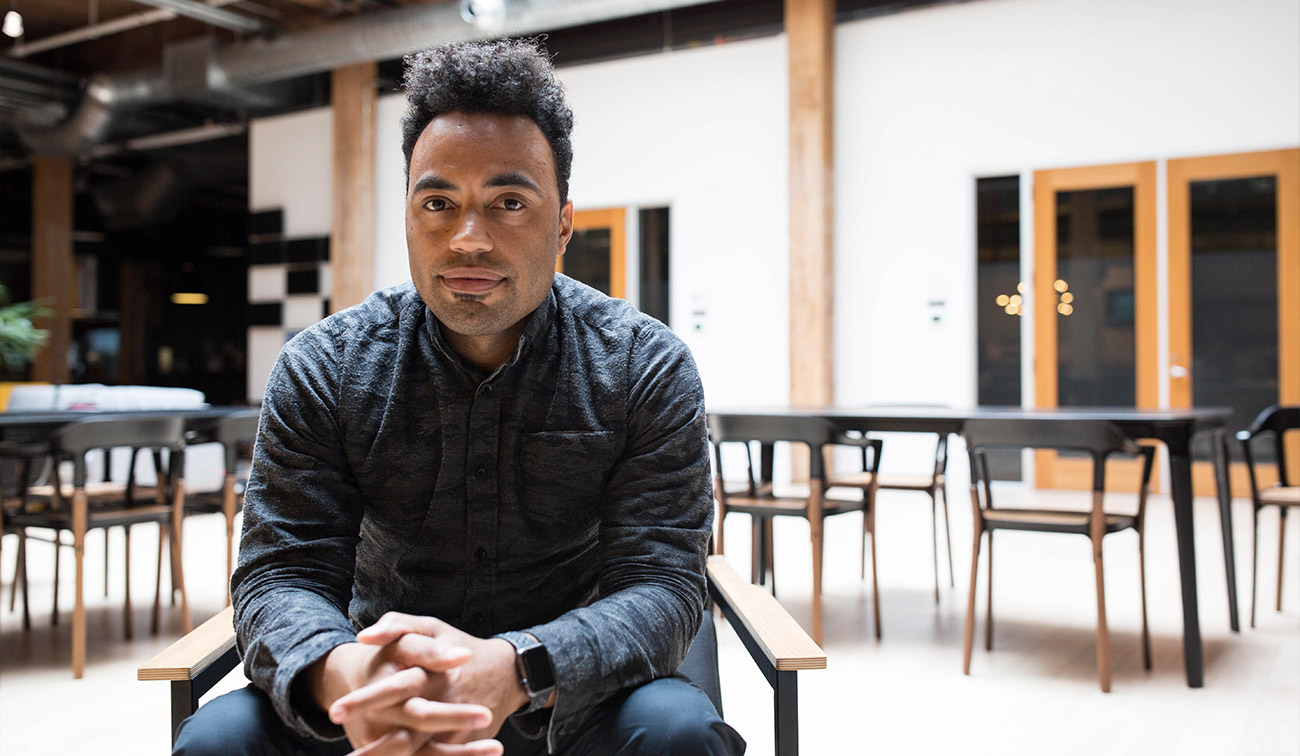 Why do you love what you do?
I truly love the idea that we can build concepts, execute ideas, and have impact on humans. It's just amazing. What separates humans from the animal kingdom is our ability to tell and believe stories. These myths galvanized people together: sometimes for good, sometimes for ill. Ultimately, we're here to tell the stories of our clients and their products that we believe in, and hopefully provide value for everyone we reach.
What excites you about being an ADAA judge?
The chance to see what the next generation of designers and artists are creating: to see their approaches and thoughts in this rapidly changing world. I'm interested in learning how we express and interact with design in the age of instant and constant communication.
What's the best piece of advice you can give a young creative?
Create. Create. Create. Practice needs to become your best friend. The difference between good and great is a tiny margin, but it compounds daily. Put in the extra time, extra work, and year over year your growth will be undeniable. In addition, be 100% accepting of your own ignorance. The more you're willing to accept that you don't know, the more you ultimately learn and grow. But also, be kind to yourself, take care, explore, and always be curious.
When you're burning the midnight oil, you can't live without…?
McLaughlin Coffee.
---
Photography by ADAA 2016 Finalist Martin Hoang.